Confident approach grows business
Theo Yannakoudis is one of that happy breed who really love what they do for a living – and his enthusiasm is contagious.
His vine nursery, situated five minutes northeast of Loxton, is one of only three left in the Riverland and supplies grafted vines to growers in South Australia and all the eastern states. Dealing in over a hundred different varietals and combinations due to cloning, Theo needs all the enthusiasm he can muster to stay ahead of what has become a very successful business.
In the industry for thirty-three years, he has long recognized one of the main reasons for this on-going success.
'It's a team effort,' he says, 'Truly a family business.'
While Theo keeps a careful eye out for quality control, Maria and Kaylia do the same for the accounts and book-keeping, as well as lending a hand in the nursery itself. Kaylia in fact has been the third nurseryman for a few years now and part of the staff that Theo calls 'our front-line eyes.'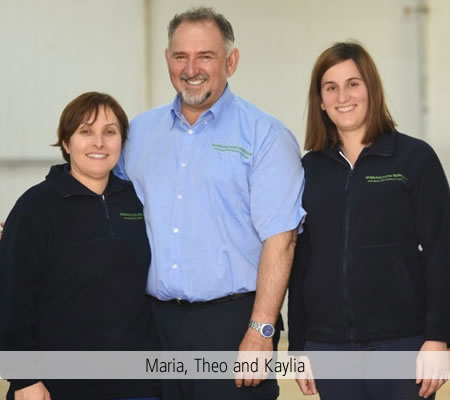 A new grafting technique may take up to three years before it begins to show results, so the quality of his nursery workers and his own 'hands on' approach is needed to ensure that any innovation always heads in the right direction.
This is especially important when grafting into pots in the shed, where there is only a three month window between success and failure. The nursery supplies one-year old dormant vines in spring and grafted vines in peat pots in late October – probably their busiest month.
'We aim to get it right first go,' says Theo, 'Customers lay out a lot of money when they order their vines, and with our commitment to innovation, mechanization and quality control, we can help them achieve their goals more quickly.'
'This means savings for us too,' he continues, 'and we can pass those savings on to customers through our very competitive prices – everybody wins!'
But there is more to Yannakoudis Nurseries than efficiency and competitive prices, and that is the quality generated by a team spirit amongst a group of people who really love what they do.
'When I see a patch of our vines planted and in full production – I know the grower and sometimes the whole family – I feel a real sense of personal pride on my part of a job well done.'
It is this sort of pride in workmanship and sheer enthusiasm that ensures that Yannakoudis Nurseries will have a role to play in the Riverland and beyond for many years to come.
Written by Wayne Eaton